Total dimensions

:

53 x 34 x 10,5 mm

Weight

:

10g

Colour

:

Black

Material

:

Plastic

Communication

:

Bluetooth v.3.0

Compatibility

:

iOS 6.0 or newer, android 4.2.2 OS or newer

Transmission frequency

:

2,4 - 2,4835 GHz

Battery / life

:

1 x CR2032 / up to 6 months

Range

:

up to 10 m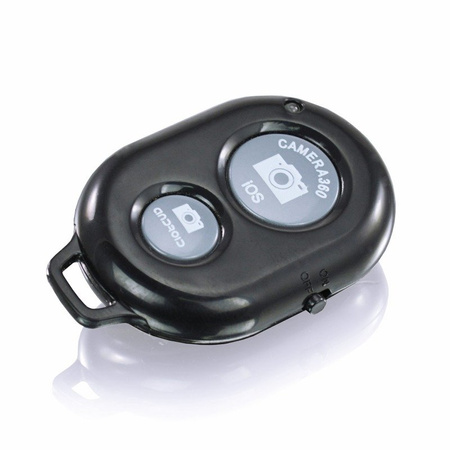 AAB Selfie Pilot Black 1 is a wireless selfie remote control, remote shutter release on smartphones compatible with iOS and android. The device is equipped with wireless bluetooth 3.0 technology that allows you to take photos in distance up to 10m from the phone - no need to turn the self-timer on the phone. The small size of the remote control is perfect for any trip, you can take high quality pictures without unwanted vibration, stably setting your equipment on a tripod or selfie stick. Capture the best moments!


- Small size

- handy design

- iOS, android support

- Range up to 10 m

- Battery included

- On / off switch

- Remote control should be paired with a bluetooth device


Connecting the remote control to the phone (pairing):
1. Insert the battery into the remote control
2. Move the button to "on" position
3. Turn on the bluetooth function on your phone and highlight the visibility option for other bluetooth devices
4.Connect devices (pairing)
5. Turn on the camera in the phone and press the button on the remote control to take pictures / video.
Additional information:
Most phones with Android and iOS do not need additional software to take pictures. In the absence of compatibility (for example, for Sony and HTC models), download the free "Camera 360" application from Google Play or the App Store.
Included:

- AAB Selfie Pilot Black 1
- Packaging