Dimensions when folded

:

300 x 51 x 29 mm

Minimum length

:

22 cm

Maximum length

:

96 cm

Weight

:

126 g

Material

:

metal

,

Plastic

Thread

:

1/4 inch universal in the holder and base of the stick

Compatibility

:

Cameras, camcorders, smartphones to 0.7 kg

Additional information

:

Leash

,

Profiled slide (stick does not rotate)

Warranty

:

24 months

Colour

:

Black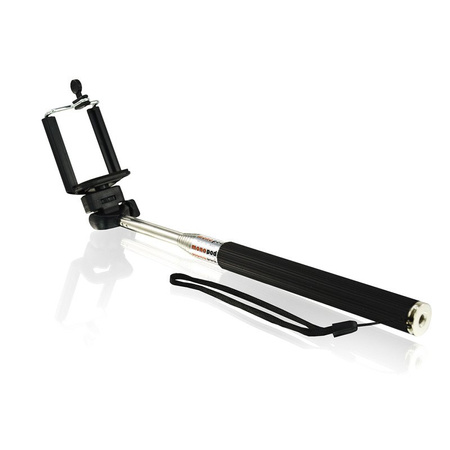 AAB Selfie Stick 1 Black is a telescopic monopod designed for "selfie" photography enthusiasts. The slider arm has an adjustable head and a smartphone mounting bracket. Monopod is perfect for every trip, you can take high quality "selfie" photos not only of your surroundings but also of yourself in every place.


- Small size, handy design

- 1/4 "universal thread - compatible with cameras

- Max length up to 96cm

- Movable head - can be set at any angle

- Anti-slip handle to hold, practical leash

- Smartphone compatibility - solid grip


Stable and solid smartphone assembly:
The stick is equipped with a sturdy grip for mounting a smartphone up to 83mm wide. Materials used prevent scratches on the phone, and compression springs built into the mount ensure stable and secure mounting. (phone not included).
Functional head and mounting bracket:
The movable head enables rigid, stable mounting of the phone / camera on any angle. The 1/4" thread in the base of the stick allows it to be mounted on a tripod for stable, high-angle shooting without the need for holding the stick.
Included:

- AAB Selfie Stick 1 Black
- Packaging