Colour

:

Silver

Weight

:

1 g

Thermal conductivity

:

4,8 W/mK

Thermal resistance

:

< 0,06 C/W

Operating range

:

-30 to 300 deg. C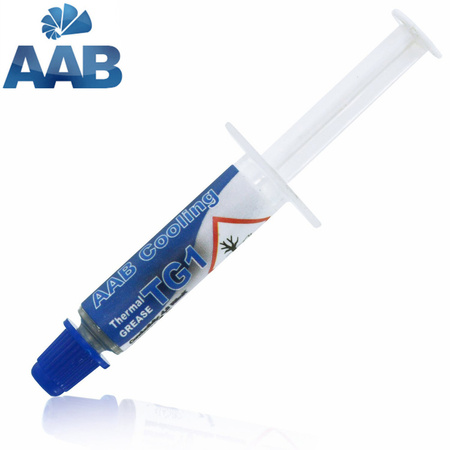 AABCOOLING Thermal Grease 1 - 1g High quality heat-conducting paste with silver addition, does not conduct electricity. It is intended to fill the processor - heat sink connections to improve heat dissipation. Enough for 4 to 6 applications.


- Optimal conductivity

- Appropriate density and viscosity

- It does not dry out or effuse

- Easy to use and remove

- Operating range: -30 to 300°C


Main advantages:
- Optimal thermal conductivity.
- Proper density and viscosity ensure accurate placement during pressure.
- Does not dry, does not effuse.
- Simple application.
- Does not conduct electric current - does not cause short circuit on very sensitive electronic circuits.
- Optimal working range from -30 to 300C degrees
Application:
Systems used in PCs, laptops and other electronics: CPUs (between the heat sink and the CPU), graphics cards (between the heat sink and the GPU), chipsets (between the heat sink and North Bridge and South Bridge), power sections and among other heating circuits in widely used electronics.
Comments:
Instructions for applying paste to the system: 1. Apply a thin layer of paste to the processor surface and distribute evenly. 2. When installing and pressing the heat sink to the processor, gently rotate it several times to the right and left to perfectly distribute the paste between the processor and the heatsink base.
Included:

- 1 x AABCOOLING Thermal Grease 1 - 1g