Total dimensions

:

375 x 257 x 29~60~150 mm

Material

:

Aluminium + Plastic

Weight

:

630 g

Plug & Play Version

:

just plug it to make it work

Data Transmission

:

USB 2.0 & 1.1 ports to 480 Mbps

Power Supply

:

USB 3.0 / 2.0 / 1.1 / 1.0, 5V DC or USB-AC adapter

Power consumption

:

0,4A~0,65A/ 2W~3,2W

Fans dimension

:

125 x 125 x 20 mm

Number of fans

:

2, BLUE LED

Fan spped

:

0~1000 RPM ± 10%

Airflow

:

115 CFM

Noise

:

level of 11 dB(A), SUPER SILENT mode

Adjustment of inclination

:

Two-stage tilt angle adjustment

Size front block (bookends)

:

130 x 16 mm

Power cord length

:

60 cm

Bearings

:

Hydraulic

Lifespan

:

50000 h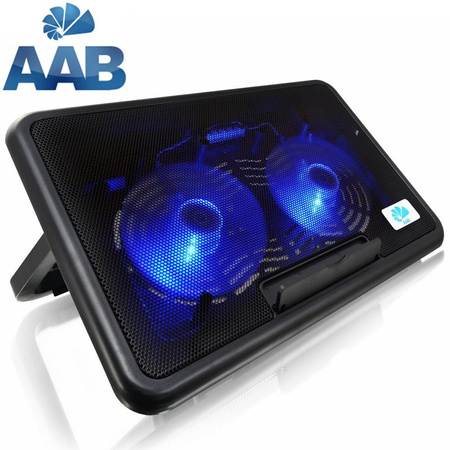 AABCOOLING NC82 Black Laptop stand is a quiet stand with two efficient fans. Ideally sized stand ensures wide compatibility with various sizes of laptops and laptops. It provides a stable base for your laptop, and a rotary potentiometer enables simultaneous adjustment of the fans. An additional advantage is the ability to adjust the angle of inclination in two planes, anti-vibration pads and a blocker preventing the laptop from sliding at an angle. When setting the lowest fan speeds, noise is practically inaudible (SUPER SILENT mode).


- Solid, innovative design

- Powerful, quiet 125mm 11 dB (A) fans

- Fan Speed ​​Controller, 2 x USB 2.0

- Two-stage tilt angle adjustment

- Two blue illuminated fans

- Lock to prevent laptop slipping
Excellent cooling:
The use of the AABCOOLING NC82 helps keep your laptop cool, protects it from overheating, and prevents from experiencing several problems: performance drop and a noticeable slowdown in performance, battery life and processor crashes.
Main advantages:
- Solid, innovative design
- Excellent operating performance - efficient, quiet fans
- Airflow: The fans direct the cool air, which is below the stand, to the entire notebook casing. This reduces the case temperature as well as the processor core
- Large heat dissipation
- Easy to install
- 2 x USB connector - works without additional drivers
- off / on switch
- Additional risers eliminate vibration and resonance and do not scratch the desk / desk surface
- Stable and elegant design with longitudinal stands that allow you to work comfortably even with the largest laptops on the market
- Two-stage tilt angle adjustment
- Fan Speed ​​Controller
Application:
- Compatible with all notebooks / laptops of different matrix sizes. The size of the laptop does not matter here if the difference is within a few centimeters, but the sensitive areas where the elements are potentially exposed to damage due to excessive temperature
- Recommended compatibility: notebooks from 10 "~16" Please refer to the dimensions of the stand.
Included:

- 1 x AABCOOLING NC82
- 1 x USB Cable
- 1 x Package