Total dimensions

:

360 x 259 x 22 mm

Size with folded legs - higher

:

360 x 259 x 48 mm

Material

:

Plastic + aluminum Grid

Weight

:

760 g

Plug & Play Version

:

just plug it to make it work

Data Transmission

:

USB 2.0 & 1.1 ports to 480 Mbps

Power Supply

:

USB 3.0 / 2.0 / 1.1 / 1.0, 5V DC or USB-AC adapter

Power consumption

:

5V DC/0,8A~0,75A/0,4W~3,7W

Fans dimension

:

70 x 70 x 15 mm

Number of fans

:

6 x BLUE LED

Fan spped

:

1200 RPM ± 10%

Airflow

:

125 CFM

Noise

:

level of 11 dB(A), SUPER SILENT mode

Adjustment of inclination

:

additional legs that increase the slope

Power cord length

:

60 cm

Bearings

:

Hydraulic

Lifespan

:

20000 h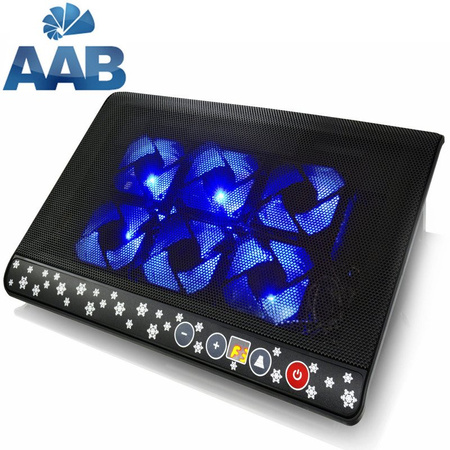 AABCOOLING NC76 Black Laptop Stand A very thin (22mm) laptop stand that has six efficient and quiet fans! Six 70mm fans provide efficient and quiet cooling. Ideally stable construction provides a perfect base for your laptop. An electronic control panel is used in the stand. Four modes of fan speed (P1, P2, P3, P4) and three modes of operation of selected fans (F1 two internal fans, F2 four external, F3 all) and OFF / ON button are programmed. Aesthetically pleasing, efficient and quiet notebook stand that produces a minimum noise of only 11dB(A). Hydraulic bearings work very quietly. When setting the lowest fan speeds, noise is practically inaudible (SUPER SILENT mode).


- Stable and efficient construction

- very efficient Blue LED 70 mm, 11dB(A)

- additional legs to increase the angle of inclination

- Perforated aluminum grill

- Excellent cooling and stable laptop performance

- On / Off switch, fan speed regulator, 2 x USB 2.0

- 2 x USB 2.0, OFF / ON switch Electronic control panel
Excellent cooling:
The use of the AABCOOLING NC76 helps keep your laptop cool, protects it from overheating, and prevents from experiencing several problems: performance drop and a noticeable slowdown in performance, battery life and processor crashes.
Main advantages:
- Large stable design with six fans
- Airflow: The fans direct the cool air, which is below the stand, to the entire notebook casing. This reduces the case temperature as well as the processor core
- Large heat dissipation
- Easy to install
- Electronic control panel
- Four fan speed modes (P1, P2, P3, P4)
- Three operating modes of selected fans (F3-all fans, F1-two internal and F2-four external)
- 2 x USB connector - works without additional drivers
- ON / OFF switch on the stand panel
- Additional risers eliminate vibration and resonance and do not scratch the desk / desk surface
- Stable and elegant design with cradles allows you to work comfortably even with the largest laptops on the market
- Powerful and very quiet fans
- Clipboard for USB cable
- Power from Super Speed ​​USB 3.0 port, Hi-Speed ​​USB 2.0, 1.1 / 1.0 and compatibility with all operating systems Windows, MacOS, Linux.
- USB 2.0 / 1.1 / 1.0 data transmission.
Application:
- Compatible with all notebooks / laptops of different matrix sizes. The size of the laptop does not matter here if the difference is within a few centimeters, but the sensitive areas where the elements are potentially exposed to damage due to excessive temperature
- Recommended compatibility: notebooks from 12" ~ . Please refer to the dimensions of the stand.
Included:
- 1 x AABCOOLING NC76
- 1 x USB Cable
- 1 x Package