Total dimensions

:

118 x 92 x 30 mm

Weight

:

100g

Material

:

Plastic

,

aluminium

Fans dimension

:

70 x 70 x 10 mm

Power Supply

:

5,5V~12 VDC/0,05A~ 0,11A

Power Connector

:

2 Pin mini

Speed

:

2500 rpm ±10%

Airflow

:

25,6 CFM

Noise

:

18 dB(A)

Bearings

:

FDB(Fluid Dynamic Bearing) - Hydraulic

Thermal resistance

:

0,29 C/W

Cable length:

:

13cm

Mounting hole spacing

:

38 x 38mm - 52 x 52mm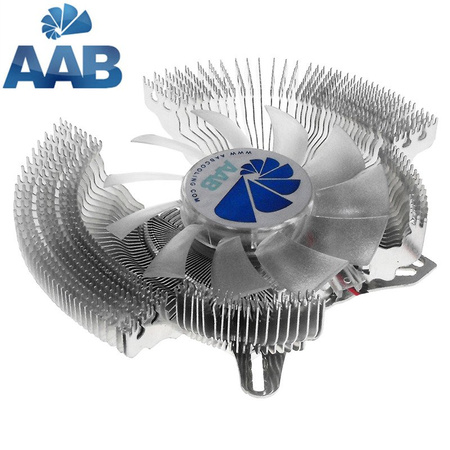 The AAB Cooling Super Silent VGA 2 is a good price graphics card cooling. The "fan type" design helps dissipate heat on the large surface of the heat sink that is being blown onto by the quiet fan. The VGA 2 has an all-aluminum radiator. Compact dimensions make it compatible with SLI and CrossFire. An additional advantage is the very wide compatibility with different spacing of mounting holes on the graphics card. Low fan speeds provide low noise levels. This allows the mounting where old and fairly noisy fans do not fulfill their role. Reduction in the amount of rotation is possible with the use of a special regulator, or by connecting the fan to 5V voltage.


- Very good noise to performance ratio
-
Extremely quiet fan
- Good heat dissipation
-
Extremely wide compatibility - mounting holes spacing from 38 x 38 mm to 52 x 52 mm
- Optimal GPU pressure
Typical applications:

- Wide compatibility in mounting holes from 38 x 38 mm to 52 x 52 mm.


Before purchasing, please check the dimensions of the mounting holes carefully as they are the basis for compatibility assessment. Please compare the power plug as well.


If you do not start the fan, replace the cables in the fan power plug (red '+' with black '-').


Included:

- 1 x AAB Cooling Super Silent VGA 2
- 1 x thermal conductive paste
- screws and mounting elements
- 1 x package