Total dimensions

:

110 x 80,8 x 23,5 mm

Colour

:

Black

Material

:

Plastic

,

metal

Compatibility

:

AMD AM2(+)/AM3(+)

Mounting hole spacing

:

96 x 48 mm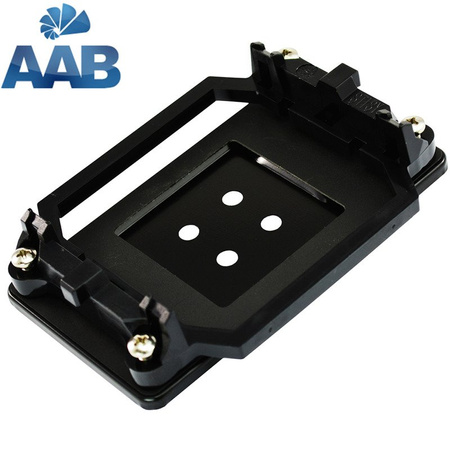 AABCOOLING AMD AM2 / AM3 Guide Plus Backplate Rotation Module is a mounting stand that provides seamless installation of CPU cooling to AM2 (+) / AM3 (+) socket. Ideal solution for boards where the existing base has been damaged. The spacing of the mounting holes is: 96 mm x 48 mm (+ - 1 mm) - the distance measured is the distance between the centers of the mounting holes. In addition, the set includes a base for the board - the so-called backplate, made of metal.


- Compatible with AM2 (+), AM3 (+)

- Metal backplate

- Anti-short circuit isolation on the motherboard

- Ideal replacement

- Robust construction

- Threaded holes for solid pressure



Assembly:
Can be mounted on AM4, FM1, FM2, FM2 + sockets (standard spacing of mounting holes - 48 x 96mm). The required amount of space for screwing the top of the basket on the motherboard is about 84 mm wide. Because of the wide array of electronic components on the motherboards, the top of the strap may not fit on the FM1, FM2 (+) boards.
Included:

- 1 x AABCOOLING AMD AM2/AM3 Guide Plus
- 1 x Package