Total dimensions

:

140 x 140 x 25 mm

Weight

:

129 g

Material

:

Plastic

Power Supply

:

5V~12 VDC/ 0,02A~0,07A/ 0,1W~0,84W

Power Connector

:

3 Pin

Speed

:

600 rpm ±10%

Airflow

:

80 m3/h

Noise

:

8,6 dB(A)

Bearings

:

FDB(Fluid Dynamic Bearing) - Hydraulic

Thermal resistance

:

0,29 C/W

Mounting hole spacing

:

125 x 125 mm

Cable length:

:

30cm

Lifespan

:

100000 h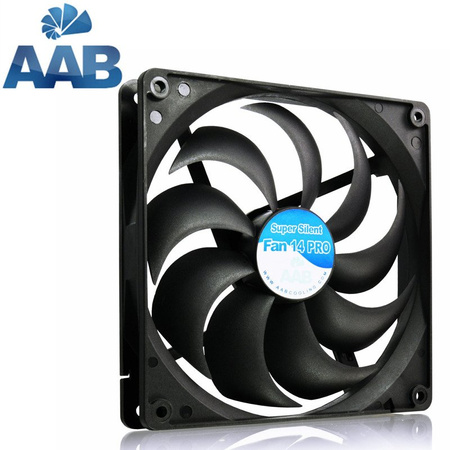 AAB Cooling Super Silent Fan 14 PRO is a high performance 14 cm fan with up to 9 fan blades designed for dynamic workflow and a decent performance (up to 39%). The high working performance of the AAB fans is due to the advanced AFDB (Dynamic Fluid Dynamic Bearing) bearings. An additional advantage of this solution is extended, compared to sliding bearings, lifespan of 100000h.
The fan operates at a constant speed of 600 ± 10%. The airflow is 80 m³ / h, and the noise generated by the propeller is 8,6 dB, which makes it a quiet and very efficient fan in its class available on the market. The mounting is very simple - we install the fan in the right place with 4 screws.


- Solid construction, 140 x 140 x 25 mm

- State-of-the-art IC

- Cable in elegant black braid

- Modern, quiet FDB bearing

- Excellent work performance 80 m3/h

- Mounting and anti-vibration washers

- Extended lifespan: 100000h


Excellent cooling:
Highly efficient and 140 x 140 x 25 mm dimensions allow the fan to be mounted on the heatsink for efficient cooling of the processor instead of the loud noise of other manufacturers.
Excellent replacement for loud fan on a CPU heat sink. Can be installed on the side panel of a PC.
FDB bearings:
- no friction, prolonged lifespan
- leveling the vibrations that are damped by oil
- minimizing noise, which is generated only by fan blades
- oil leakage protection
- spiral filling with oil for better lubrication, no possibility of oil accumulation in one part of the bearing
- used on hard drives, as much more efficient, quieter, to guarantee more efficient work
- Ordinary plain bearings slip during operation, rubbing against each other, they heat up, which significantly shortens their life span.
Mounting the fan in a casing or power supply:

The AAB Cooling Super Silent Fan 14 PRO is mounted on 4 screws, attached just like the standard fans in the power supply, allows quick and easy replacement of the loud fan. Mounting methods in the power supply:
- connecting the fan on the motherboard and carrying the cable (30 cm) from the power supply by any small gap - possibility of reading the current number of fan speed in the BIOS
- disconnecting the 3 pin plug and connecting the fan directly to the power supply (no return possible) - The black cable is ground, the red is responsible for +, yellow is the transmission of the speed, no connection unables the BIOS from reading speed.

Included:

- 1 x AAB Cooling Super Silent Fan 14 PRO
- 4 x mounting screws
- 4 x anti-vibration washers
- packaging