Total dimensions

:

44 x 240 x 20 mm (lenght x width x height)

Size with adjustment-

:

44~165 x 240 x 55~87~110~125~135~145mm (lenght x width x height)

Material

:

aluminium

Weight

:

229 g

Noise

:

0 dB(A)

Size of two front blocks (bookends)

:

22 x 15,5 mm (width x height)

Plug & Play Version

:

just plug it to make it work

,

extend the stand and place the device

Adjustment of inclination

:

six-step tilt adjustment

Compatibility

:

netbook, laptop, ultrabook, tablet, smartfon, ebook

Product symbol

:

NCO098
What does a laptop stand give you? Increase performance, ensure stable operation of your laptop Now!
Your laptop is overheating? The case gets hot and the fan starts to work loudly due to the cooling system being clogged with dust. Its performance deteriorates while working or playing the latest games and it starts to stutter? There is a way. The FOLD stand is the perfect solution from AABCOOLING, which will effectively accelerate the cooling of your laptop by lifting it up and limiting clogging of the laptop cooling with dust. Do you have a laptop, tablet or phone size between 5~15.6 inches? This product will work perfectly!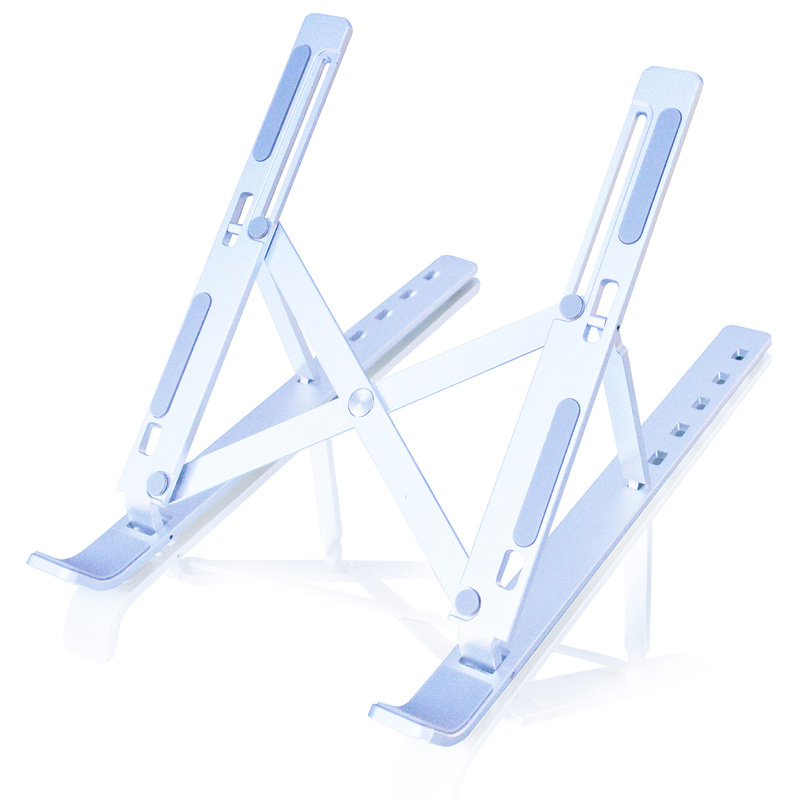 Do you experience back pain caused by incorrect sitting or standing posture at the laptop? Adjust the angle of viewing the screen and improve the comfort when typing on the keyboard by adjusting the angle of the stand in up to six different ranges.
Dust causes noise and performance issues? Adjusting the tilt angle makes the laptop lifted above the surface, which prevents dust from entering the internal cooling of the laptop. This solution creates an ideal barrier to dust settling on the surface of the tabletop, which would normally get into your laptop, clogging its ventilation. You can easily remove dust with compressed air AABCOOLING GAS DUSTER 400/750ml, which you can order as a set.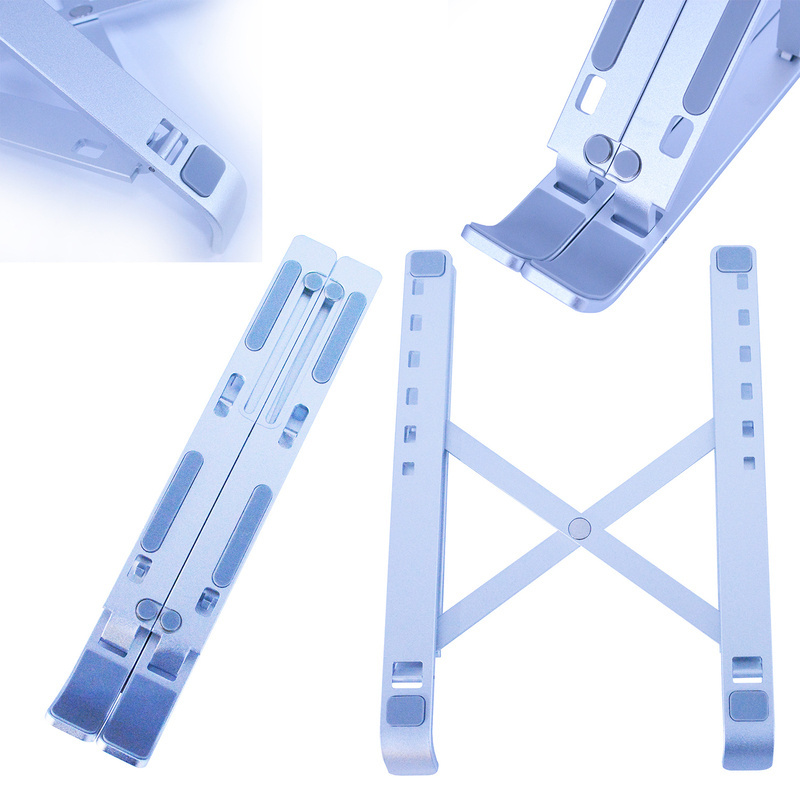 Laptop stand how to connect? Easy to install and use
Simple to use and easy to install. Adjust the angle of inclination on both sides of the supports to the appropriate height and then place the notebook/netbook/tablet/phone on the adjustable stand.
Compact dimensions. Take it with you wherever you go!
Small folded size allows you to use it anywhere. It doesn't matter where you are, whether on a trip, in the office, on a picnic, at university The stand will always be with you in an elegant velor case!
Additional support for laptop cooling. Main advantages!
Bet on quality and improve laptop cooling efficiency! Solid construction and adjustable angle of inclination allow free air flow in your laptop.
Worried about your laptop slipping off the stand? There is a solution for that. The AABCOOLING FOLD stand has a front lock with a height of 15.5 mm, which will ensure safe work on an inclined laptop.
Do you value silence? The modern structure is made entirely of aluminum. Your baby can sleep soundly, 0 dB(A) noise.
Are you afraid of scratches on your desk or table? Rubber feet eliminate vibrations and prevent scratches on the surface of the tabletop or any other surface.
Take advantage of the return option. Order now, test at home!
Do you want to check if it meets your expectations? Find out now!
Join thousands of satisfied customers!
Order today and enjoy effective, additional laptop cooling.
Included
1 x AABCOOLING FOLD
1 x velor pouch
1 x box
24 months warranty - Warranty is granted by the seller for a period of 24 months.
24 months warranty