Total dimensions

:

410 x 260 x 34 mm (lenght x width x height)

Size with adjustment-

:

410 x 260 x 85~105~120~130 mm (lenght x width x height)

Material

:

Plastic + Metal Grid

Weight

:

890 g

Data Transmission

:

USB 2.0 & 1.1 ports to 480 Mbps

Plug & Play Version

:

just plug it to make it work

Power Supply

:

USB 3.0 / 2.0 / 1.1 / 1.0, 5V DC or USB-AC adapter

Power consumption

:

5V DC, 0,5A~0,8A / 2,5W~4W +/-10%

Fans dimension

:

2 x : 122x122x15 mm

Fan spped

:

122 mm: 900~1100 RPM +/-10%

Number of fans

:

2 x fan red LED

Airflow

:

40 ~ 65 CFM

Noise

:

14 ~ 24 dB(A)

Size front block (bookends)

:

130 x 15 mm (width x height)

Power cord length

:

60 cm

Adjustment of inclination

:

4-step tilt adjustment

Bearings

:

Hydraulic

Lifespan

:

20000 h

Additional features

:

Side RGB backlight - On/Off control button

,

Manual fan speed controller

Product symbol

:

NCO095
What does a laptop cooling pad do? Increase performance, ensure stable operation of your laptop Now!
Your laptop is overheating? The case gets hot and the fan starts to work loudly due to the cooling system being clogged with dust. Its performance deteriorates while working or playing the latest games and it starts to stutter? There is a way. The GEMINI cooling pad is an efficient stand from AABCOOLING, which will effectively accelerate the cooling of your laptop and effectively cool it down, and will reduce clogging of the laptop cooling with dust. Do you have a laptop size between 10~15.6~17.3 inches? This product will work perfectly!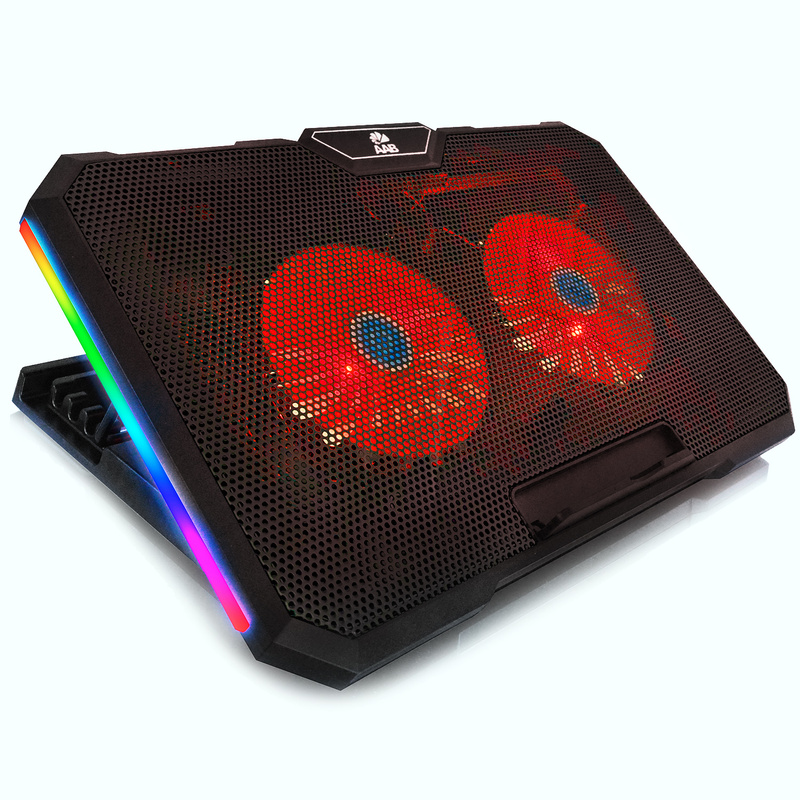 Cooling pad is it worth it? Save time and money.
Do not waste more time, nerves and money on ineffective attempts to ensure smooth functionality of your laptop, and in the worst case on expensive service repairs caused by burning or serious damage to your laptop's components, which can cost you up to several hundred zlotys. The sooner you solve the problem of more efficient laptop cooling, the better for you and your wallet. AABCOOLING GEMINI is a cooling pad for gamers and notebook enthusiasts, distinguished by its modern design and functionality. It will ensure comfort and smoothness of use, and will increase the safety of your equipment!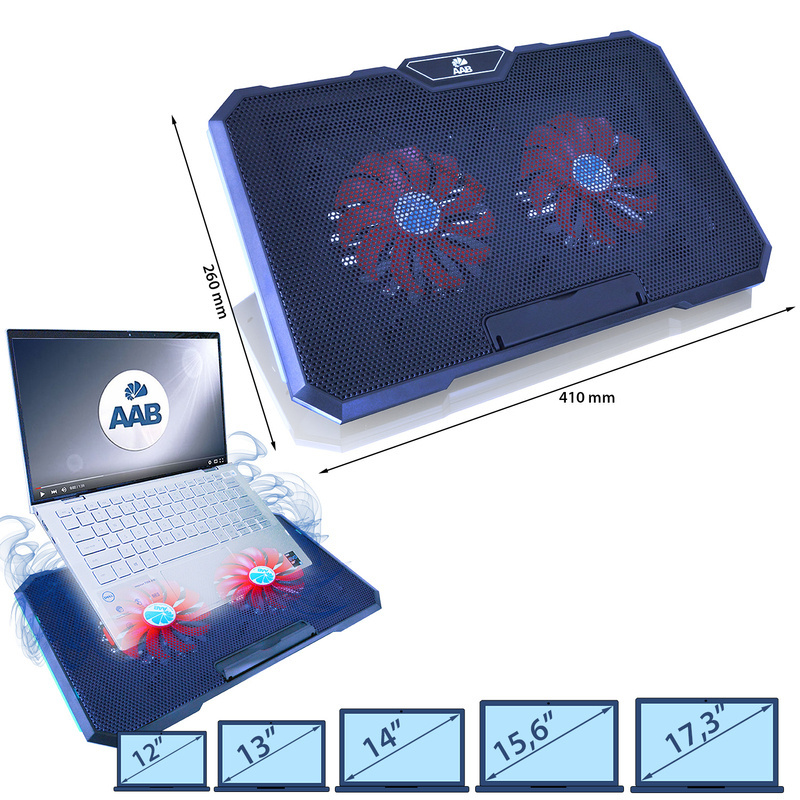 External cooling for a laptop. A proven and trusted company.
The AAB company was established in 1995. Since the beginning of 2003, we have been specializing in cooling and soundproofing PCs and laptops. As a leader in the computer cooling industry, we have many years of experience confirmed by thousands of completed orders and hundreds of thousands of satisfied customers in Poland and Europe.
363,000,000 completed transactions
99.5% satisfied customers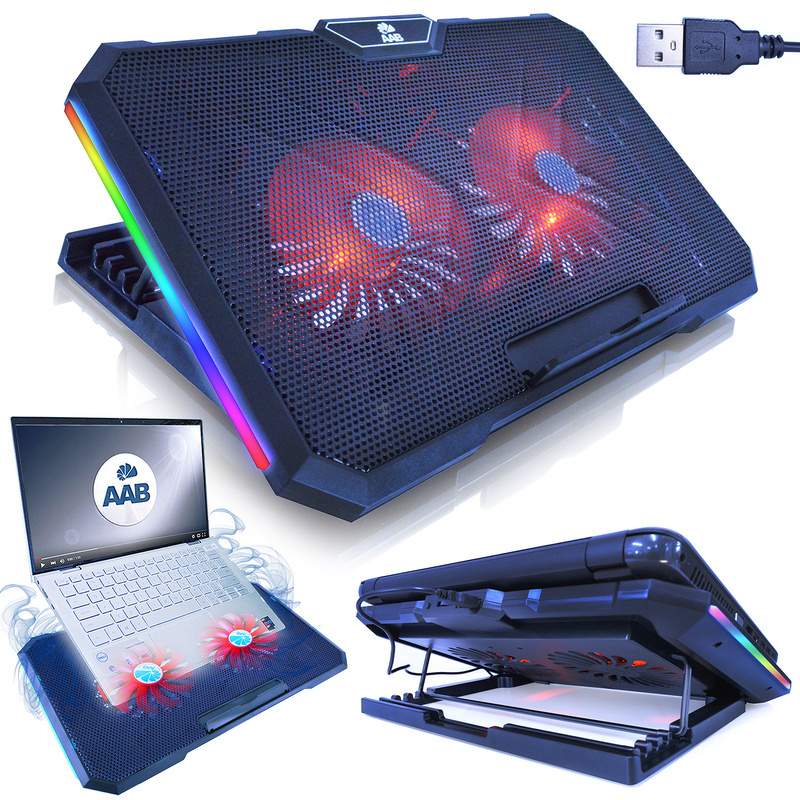 How does the AABCOOLING GEMINI laptop cooling stand work?
Move to the world of fresh air! Built-in fans generate cool air by sucking it from the bottom and directing it to the hot bottom of your laptop. The cooling pad has a built-in fan speed controller and an ON / OFF button to operate the side lighting function in RGB colors. Do you play games? Need extra cooling capacity? - this is the product for you - set the potentiometer to MAX! By adjusting the angle of inclination, you can adjust the inclination of your laptop to ensure the greatest comfort just for you.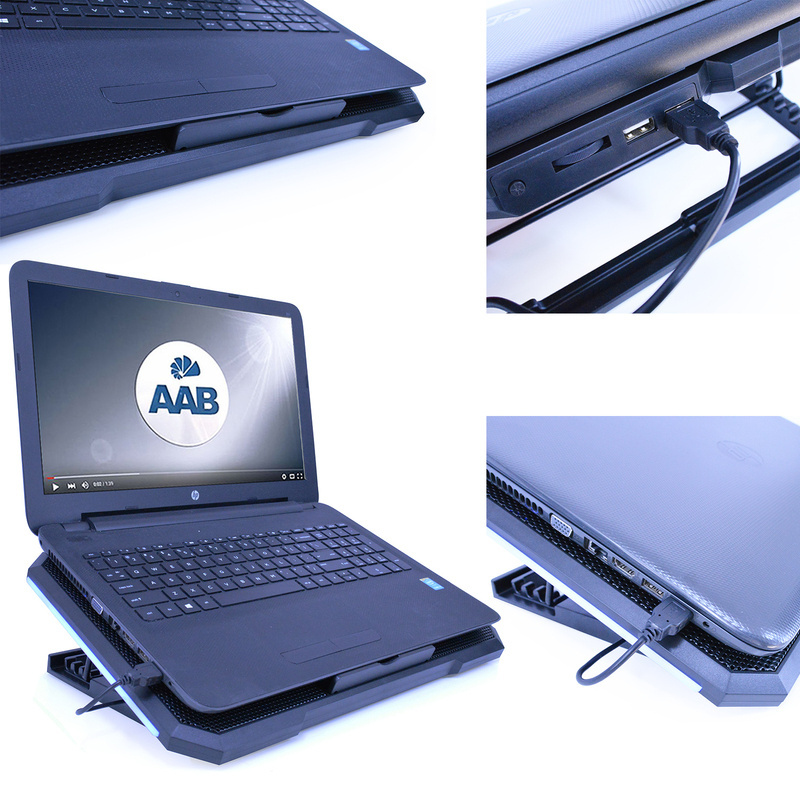 Laptop cooling pad how to connect? Easy to install and use
Simple to use and easy to install. Place the laptop on the pad and connect the USB cable to the USB port. Turn the regulator knob clockwise to start the fans. The knob is located on the back of the stand next to the USB ports. An additional advantage is the additional USB port in the stand, which you can use to connect additional equipment, e.g. a mouse or a pen-drive. The button on the manual speed controller allows you to control the RGB LED backlight (holding the button for 3s turns off/on the RGB side lighting)
Compact dimensions. Take it with you wherever you go!
Optimal size allows use anywhere. It doesn't matter where you are, whether on a trip, office, picnic, university efficient cooling will always be with you!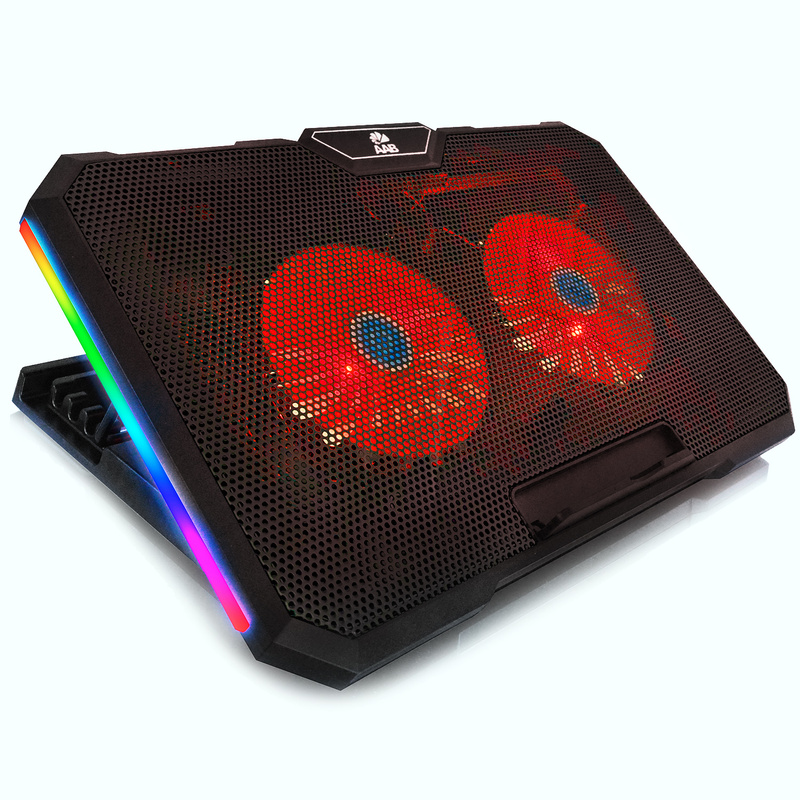 Extra laptop cooling. Main advantages!
Bet on quality and performance! Solid construction and effectively efficient two 122 mm fans
Worried about your laptop slipping off the stand? There is a solution for that. The AABCOOLING GEMINI stand has a fold-out front lock with a height of 15 mm, which will ensure safe work on an inclined laptop.
Do you value silence? Modern hydraulic bearings run very quietly. Your child can sleep peacefully min. 14dB(A).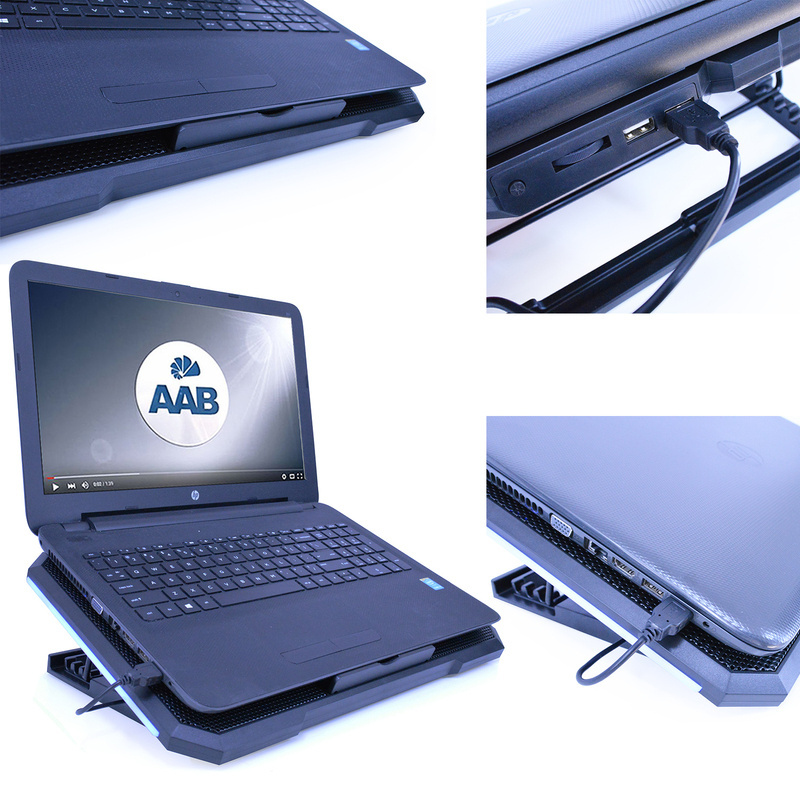 Do you experience back pain caused by incorrect sitting or standing posture at the laptop? Adjust the angle of viewing the screen and improve comfort when typing on the keyboard by adjusting the angle of the stand in four different ranges.
Dust causing noise and performance issues? The aluminum mesh will create a perfect barrier to dust by embedding dust particles in the stand that would normally get into your laptop, clogging its ventilation. Dust from the stand can be easily removed with compressed air AABCOOLING GAS DUSTER 400/750ml, which you can order in the set.
Afraid of scratches on your desk or table? Flexible feet eliminate vibrations and prevent scratches.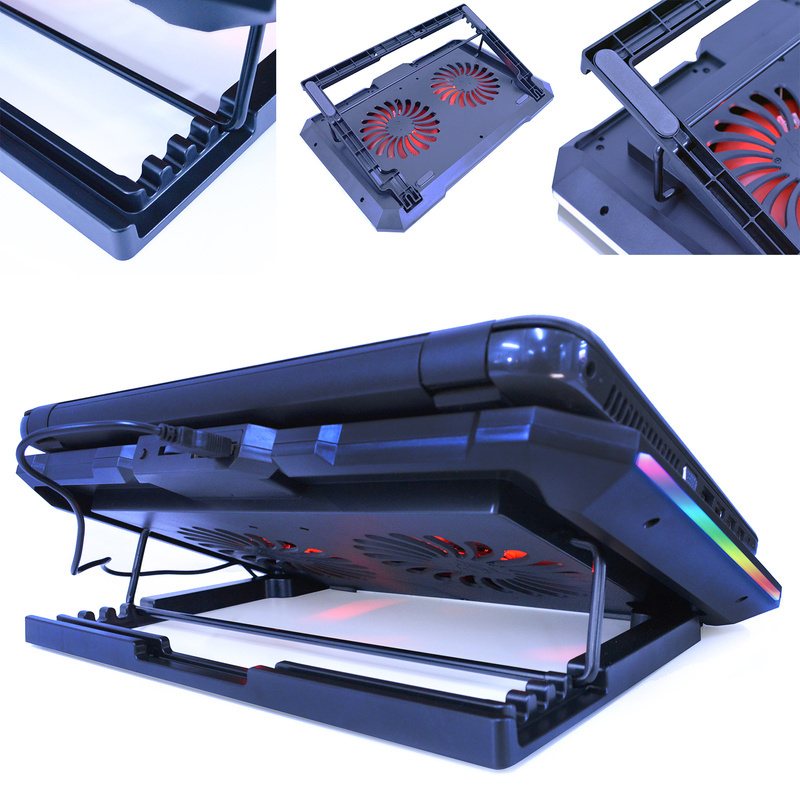 Take advantage of the return option. Order now, test at home!
Be delighted with the silent fans. Order a laptop stand with AABCOOLING GEMINI fans!
Do you want to check if it meets your expectations? Find out now!
Join thousands of satisfied customers!
Order today and enjoy effective, additional laptop cooling.
USB power cable FREE!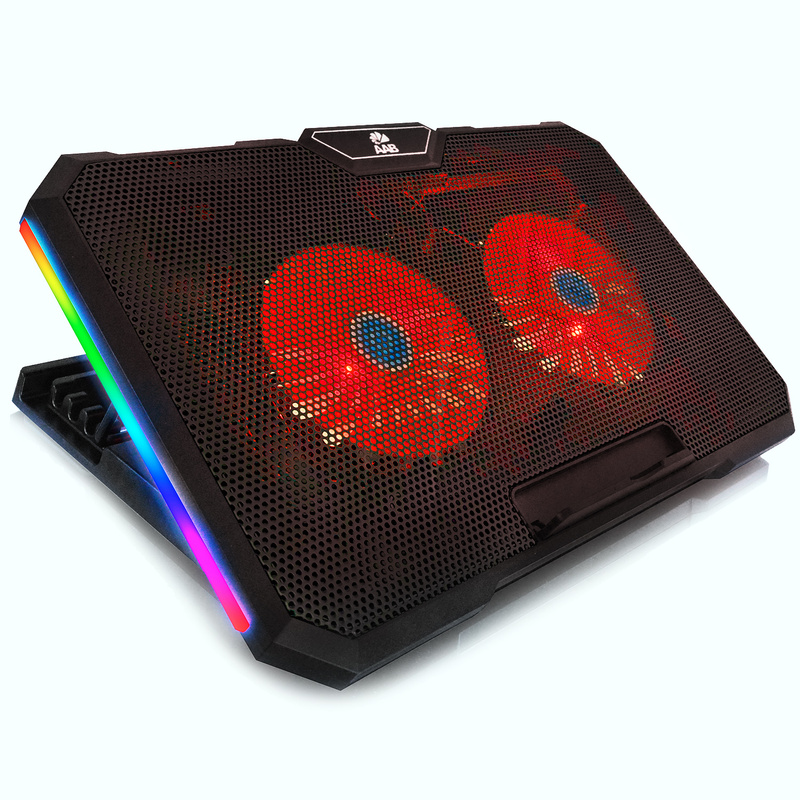 Included
1 x AABCOOLING GEMINI
1 x USB power cable
1 x box
24 months warranty - Warranty is granted by the seller for a period of 24 months.
24 months warranty