Total dimensions

:

145 x 90 x 147 mm

Weight

:

300 g

Colour

:

Black

Material

:

Metal, Aluminium

Fans dimension

:

96 mm

Power Supply

:

3V~5V DC/ 0,36A~0,6A

Power Connector

:

USB 3.0, 2.0, 1.1

Speed

:

1800 rpm ±10%

Power consumption

:

3 W

Installation

:

Plug & Play-Version

Bearings

:

FDB(Fluid Dynamic Bearing) - Hydraulic

Thermal resistance

:

0,29 C/W

Power cord length

:

110 cm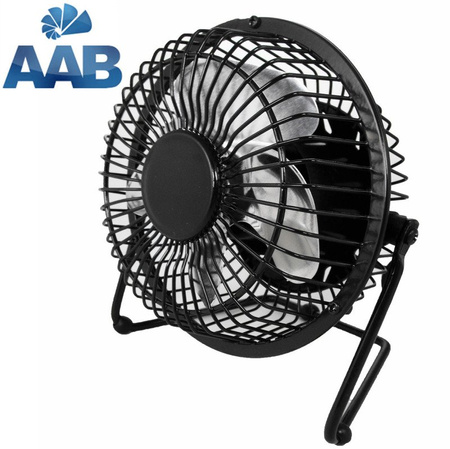 AAB Cooling USB Fan 2 is a quiet, powerful, portable USB cooler that lets you refresh your tired PC and laptop! Made entirely of metal and equipped with aluminum blades.

The standing fan, with the Start / Stop switch, allows you to work continuously without having to pull out the USB cable whenever you want to disconnect the fan.

The windmill performs about 1.8 thousand rotations per minute, adjusts the angle of inclination, so it can be matched optimally to the needs. At the bottom of the handle, rubber elements reduce the vibration that is transferred from the fan to the base of e.g. the desk.

A 1.1m cable lets you easily carry your cable under your desk right next to your computer. In addition, the cable can be wound up to maintain order on the desk.


- Solid airflow

- Powered from any USB 2.0 and 1.1 ports

- 96mm Fan

- Power Consumption: 3W

- Protective metal shield


Included:

- AAB Cooling USB Fan 2
- Packaging