Total dimensions

:

120 x 120 x 25

Weight

:

100g

Material

:

Plastic

Power Supply

:

12 VDC/ 0,17A

Power Connector

:

3 Pin

Speed

:

1100rpm ±10%

Airflow

:

104 m3/h

,

61

Noise

:

12,9 dB(A)

Bearings

:

FDB(Fluid Dynamic Bearing) - Hydraulic

Thermal resistance

:

0,29 C/W

Mounting hole spacing

:

105 x 105 mm

Cable length:

:

30cm

Lifespan

:

100000 h

State

:

New

,

Nowy

Producent

:

AABCOOLING

Rozmiar wentylatora

:

120 x 120 mm

Głębokość wentylatora

:

25

Prędkość

:

1100

Maksymalny poziom hałasu

:

12.9

Wtyczka zasiląjaca

:

3-pin

Colour

:

white

Kolor podświetlenia

:

brak

Rodzaj łożyska

:

FDB

Kod producenta

:

FAN012

Waga (z opakowaniem)

:

0.148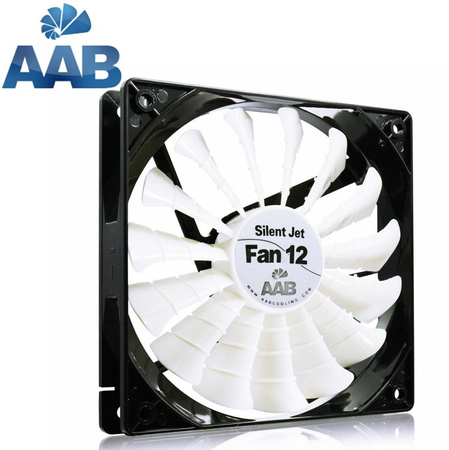 AABCOOLING Silent Jet Fan 12 is a highly-designed JET-Series fan with up to 15 turbine blades. This allows for significant increase in efficiency (up to about 65%) and noise reduction compared to standard fans. The high quality engine is equipped with a state-of-the-art IC for stable fan operation, and the modern FDB (Fluid Dynamic Bearnig) with oil fill ensures quiet operation and extended lifespn up to 100,000 h.
The fan runs at variable speed of 1100 ± 10%. The air flow is 104 m3 / h, and the propeller noise level is 12,9 dB, which makes it a very quiet and efficient fan in its class available on the market.


- Solid construction, elegant shine

- JET shoulder blades, state-of-the-art IC

- Cable in elegant black braid

- Modern, quiet FDB bearing

- Excellent work performance 104 m3/h

- Ideal for 120mm CPU heat sinks

- Mounting and anti-vibration washers

- Extended lifespan: 100000h


Excellent cooling:
Cooling of the case consists of warm air being thrown out. Mostly, the fan from the power supply is not capable of providing good cooling, despite its high speed and quite high noise levels. AABCOOLING Silent Jet Fan 12 solves this problem.
Highly efficient operation and 120x120x25 mm dimensions allow the fan to be mounted on the heatsink for efficient cooling of the processor instead of the loud noise of other fans from different manufacturers.
FDB bearings:
- no friction, prolonged lifespan
- leveling the vibrations that are damped by oil
- minimizing noise, which is generated only by fan blades
- oil leakage protection
- spiral filling with oil for better lubrication, no possibility of oil accumulation in one part of the bearing
- used on hard drives, as much more efficient, quieter, to guarantee more efficient work
- Ordinary plain bearings slip during operation, rubbing against each other, they heat up, which significantly shortens their life span.
Mounting the fan in a casing or power supply::

The AABCOOLING Silent Jet Fan 12 is mounted on 4 screws, attached just like the standard fans in the power supply, allows quick and easy replacement of the loud fan. Mounting methods in the power supply:
- connecting the fan on the motherboard and carrying the cable (30 cm) from the power supply by any small gap - possibility of reading the current number of fan speed in the BIOS
- disconnecting the 3 pin plug and connecting the fan directly to the power supply (no return possible) - The black cable is ground, the red is responsible for +, yellow is the transmission of the speed, no connection unables the BIOS from reading speed.


Included:

- 1 x AABCOOLING Silent Jet Fan 12
- 4 x mounting screws
- 4 x anti-vibration washers
- Packaging