Weight

:

30g

Colour

:

Gray

Thermal conductivity

:

5,6 W/mK

Operating range

:

from -50 to 170 deg. C

Density

:

3,73 g/cm3

Viscosity

:

85000 cps TF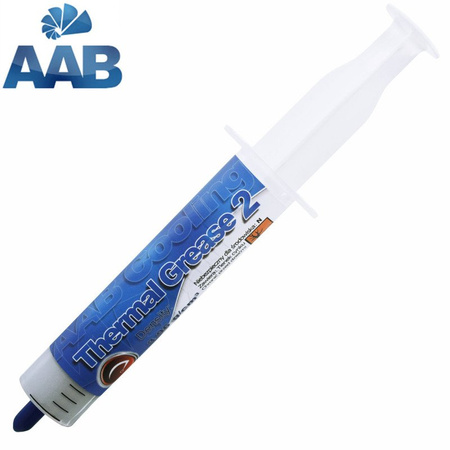 AABCOOLING Thermal Grease 2 is a very efficient thermal paste that does not contain metal particles, so there is not even the slightest risk of an electrical short circuit. AABCOOLING TG-2 paste obtains its best properties after approximately 200 hours of operation. Due to the fact that the AABCOOLING TG2 paste has a quite thick consistency, there is no danger of the paste leaking or flowing beyond its intended destination. Compared to silicone pastes, TG2 does not cause any loss of performance over time, there is no need to re-apply the paste, as the optimal operation time is approximately 8 years. This is an improved version of the previous paste!


- Efficiency at the highest level 5.6 W/mK

- Perfect density and viscosity

- Does not dry out, does not flow

- Easy to apply and remove

- Wide operating range: from -50 to 170 degrees C

- Stable operation without deterioration of conductivity properties over time


Main advantages:
- Optimum thermal conductivity.
- Appropriate density and viscosity ensure accurate placement during pressing.
- Does not dry out, does not flow.
- Simple application.
- Does not conduct electricity - does not cause short circuits on very sensitive electronic systems.
- Optimal operating range from -50 to 170 degrees C
Application:
Systems used in PCs, laptops and other electronics:
CPU processors (between the heat sink and the CPU), graphics cards (between the heat sink and the GPU), chipsets (between the heat sink and the North Bridge and South Bridge), power supply sections and among other heating systems in widely used electronics.
Comments:

Instructions for applying the paste to the system:
Remove the remnants of the old paste using the included cloth soaked in isopropyl alcohol. Wait a moment for the preparation to evaporate after cleaning
Apply a thin layer of paste to the processor surface with the included spatula and spread evenly.
When installing and pressing the heatsink to the processor, gently rotate it to the right and left several times to perfectly distribute the paste between the processor and the heatsink base.
Included:


1 x AABCOOLING Thermal Grease 2 - 30g
1 x Cloth (60x60 mm) soaked in isopropyl alcohol
1 x Spatula/Spatula (length 80 mm)