Total dimensions

:

218 x 218 x 30 mm

Weight

:

275 g

Material

:

Plastic

Power Supply

:

2,5V~12 VDC/ 0,02A~0,12A/ 0,05W~3,2W

Power Connector

:

3 Pin

Speed

:

800 rpm+/-10%

Airflow

:

232 m3/h

Noise

:

14,9 dB(A)

Bearings

:

FDB(Fluid Dynamic Bearing) - Hydraulic

Thermal resistance

:

0,29 C/W

Mounting hole spacing

:

170 x 170 mm

Lifespan

:

100000 h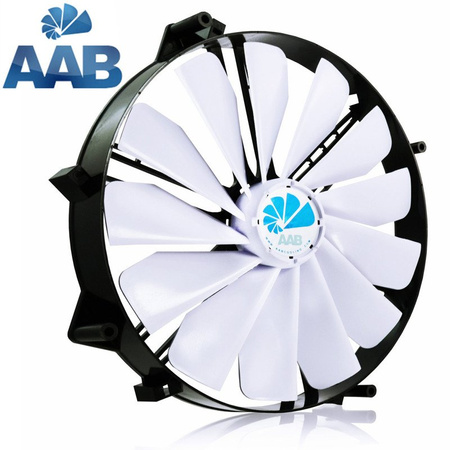 AABCOOLING Super Silent Fan 25 is a high performance 218 x 218 mm fan with up to 13 fan blades designed in a dynamic way for high performance. Solid, not pricey and lightweight 218 x 218 x 30 mm fan with 170 x 170 mm (side) spacing between mounting holes.
The fan operates at a constant speed of 800 ± 10%. The air flow is as high as 232 m 3 / h and the noise generated by the propeller is approx. 14,9 dB, which makes it a very quiet and efficient fan in its class available on the market. The mounting is very simple -, we install the fan with 4 screws in the chosen place.


- Solid construction, 218 x 218 x 30 mm

- State-of-the-art IC

- Cable in elegant black braid

- Modern, quiet FDB bearing

- Excellent work performance 232 m3/h

- Mounting and anti-vibration washers

- Extended lifespan: 100000h


Application:
The AABCOOLING Super Silent Fan 25 is mounted on 4 screws. Because of the custom dimensions, it requires individual adjustment of the PC side panel / casing. Possibility of mounting, for example, in a caravan to improve air circulation or small rooms / equipment requiring extra ventilation - more efficient cooling.
FDB bearings:
- no friction, prolonged lifespan
- leveling the vibrations that are damped by oil
- minimizing noise, which is generated only by fan blades.
- oil leakage protection
- spiral filling with oil for better lubrication, no possibility of oil accumulation in one part of the bearing
- used on hard drives, as much more efficient, quieter, to guarantee more efficient work
- Ordinary plain bearings slip during operation, rubbing against each other, they heat up, which significantly shortens their life span.
Mounting the fan in a casing or power supply:

- disconnecting the 3 pin plug and connecting the fan directly to the power supply (no return possible) - The black cable is ground, the red is responsible for +, yellow is the transmission of the speed, no connection unables the BIOS from reading speed.


Included:

- 1 x AABCOOLING Super Silent Fan 25
- 4 x mounting screws
- 4 x anti-vibration washers
- Packaging